Today I'm so happy to bring back author Patti Sheehy who spoke to me after the first book in her mini-series, The Boy Who Said No, was published. She's here today to talk to us about the sequel Stalked and I'm also excited to have her brave protagonist, Frank Mederos also answering a few questions.

It was Frank's words that especially in this turbulent time in our country for many reasons made me see that many of us really take for granted what this country stands for and the sacrifices of the many who made her the great nation she is today, when he says "

This is the greatest and most generous country in the world, and I am so proud to be an American citizen."

 

Read on to see what both Patti and Frank have to say and their publisher Oceanview is generously offering both novels in the series as a giveaway. US ONLY! See below for details.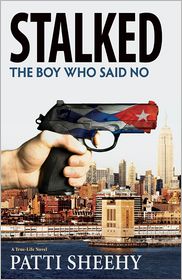 ISBN-13:

 9781608091256

Publisher: 

Oceanview Publishing

Publication date: 

9/2/2014

Series:

 The Boy Who Said No , #2

Pages: 

310
Overview
Patti Sheehy continues Frank Mederos's true-life story of romance, suspense, and intrigue in The Boy Who Said No: An Escape to Freedom. After defecting from Cuba's Special Forces and making a harrowing escape from his homeland, Frank faces new challenges in America. With five dollars in his pocket and a boatload of determination, he rejects an offer to join the CIA and takes his chances on achieving the American dream. Frank and his sweetheart, Magda, want nothing more than marriage, children, and a nice life for themselves. Frank dreams of celebrating milestone anniversaries with Magda, but his dreams are dashed. Instead, the couple faces a challenge neither of them could ever imagine. Meanwhile, sinister forces in Cuba plan to avenge Frank's escape. Can Frank outwit Cuban operatives bent on killing him? Will he again overcome the forces of evil? A tale of tender love, devastating loss, and the life-saving power of friendship.